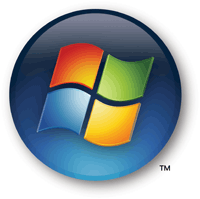 I've been using Windows 7 beta in my laptop since it came out and I couldn't been happier with it. Windows 7 RC is available now for MSDN subscribers so I'm going to do a fresh install despite that it means I'll have to reinstall all my software.
I decided to log how much time I spent rebuilding my laptop from no operating system to a ready-to-work system:
Install Windows 7 Ultimate x64 (26 minutes)
Activate Aero (30 seconds)
Join and create an initial backup in my WHS (45 minutes)
Install Firefox (2 minutes)
Install Visual Studio 2008 (12 minutes)
Install Visual Studio 2008 SP1 (10 minutes)
Install several Visual Studio Add-ins (5 minutes)
Install subversion / tortoiseSVN (5 minutes)
Install third-party development components (10 minutes)
Install other general utilities (10 minutes)

Total time: ~ 2 hours
Laptop specifications
Dell M65 – Core 2 Duo 2.0 Ghz, 2GB RAM, 320 GB 7200rpm
Windows 7 install experience
Just great! Quick and easy. I didn't need to install additional drivers. The nVIDIA drivers was detected by Windows Update and downloaded in no time. I had to manually enable Aero but it was easier than expected. I just pressed the Windows key and typed activate aero. The entry Enable or disable transparent glass on Windows appeared and I just clicked on it. Fixed in seconds.
Additional notes
The initial backup took that long because I backed up another partition with Windows XP by mistake.
I only installed C# components in Visual Studio.
For your information, Windows 7 Release Candidate expires on March 2010.