A few weeks ago, I posted my intention to move to Gmail all my email accounts. However, there was a problem when sending emails from a non-Gmail domain. Some email clients, like Outlook, add the "on behalf of'" string to those emails.
Fortunately, the Gmail dev team have added the possibility to send those emails using their own SMTP server, so the problem is gone now.
So today I'm moving all my email to Gmail. The process is really simple:
Sign up into Google Apps for your domain
Create your email addresses in Google Apps
Change the MX records for email (Dreamhost even has a button to update them for you)

Because I plan to not use Outlook at all, I need to upload all my existing email messages to Gmail. Google has a tool called Google Email Uploader to do so. It can take a while to upload the email.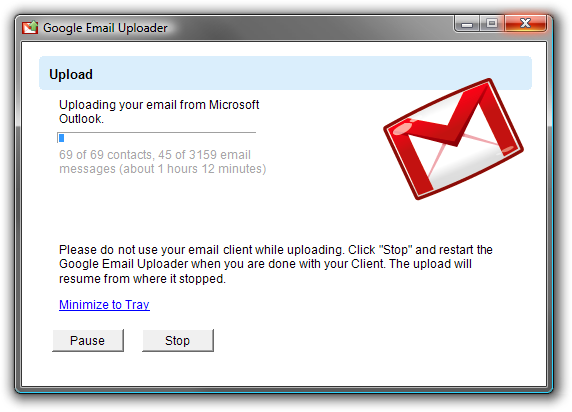 Also note that emails bigger than 16 MB are not uploaded.
Everything is going just fine so far.